History
A historical reflection on the development of the Regenerative Design Institute and Commonweal Garden by Michael Lerner, founder of Commonweal.
History
Swinging open the worn wooden gate, we were excited to explore Commonweal Garden — a seventeen acre site tucked into a sheltered valley along the Pacific coast. But just a few steps along the dusty path, we were surrounded by a tangled mass of vines, prickly blackberry bushes, and trees towering far above our heads. Clearly, the previous caretaker had tended the land with a very light hand. We later learned that he hadn't used any power equipment for over twenty years — just goats and a scythe to clear some of the brush. We began to cut little trails through the impenetrable brush to discover what was growing there. The garden was beautiful and wild. It was bursting with energy, life, and vitality.

~ the voices of Penny Livingston and James Stark

Rebirth of Commonweal Garden
by Commonweal Co-Founder and Director Michael Lerner, with help from Rachel Berry and Mary Callender
After a promising beginning in the 1970s, the once carefully tended biodynamic garden at the western edge of Bolinas reverted back to a wilder state. Hoping to revitalize Commonweal Garden, I had been looking for a new steward when I heard about James Stark and Penny Livingston-Stark, the founders of the Permaculture Institute of Northern California. The couple was highly respected in the West Marin community and nationally recognized for their pioneering work with permaculture design. In 2003, I visited Penny and James at their home in Point Reyes Station, a small town fifteen miles north of Commonweal. As soon as I stepped through their garden gate, I experienced a deep sense of peace. Penny and James welcomed me warmly. I knew in that moment that they were the right stewards for Commonweal Garden.
In the 1990s, Penny and James had converted their three-quarter acre home into a permaculture oasis. They transformed a suburban backyard with a few trees into a dynamic living classroom featuring a grey water koi pond that processed laundry and bath water, a cob library with a roof catchment for rainwater, a vaulted strawbale cottage, an outdoor bread oven, and a food forest garden teeming with fruits, vegetables, nuts, herbs, and berries. Gradually, they began to notice an increase in the diversity of wildlife in their garden, a decrease in the amount of energy needed to produce food, as well as a decrease in the number of outside resources they needed to live in their home.
Intrigued that the principles of permaculture could be applied to create such thriving and abundant living systems, in 1994 Penny and James co-founded the Permaculture Institute of Northern California (PINC). Penny said:
Permaculture is a design science that is rooted in the observation of natural systems. The principles of permaculture teach us how to design ways of living that have the stability and resiliency of natural ecosystems. Permaculture teaches us how to build natural homes, grow our own food and medicine, tend our animals, restore diminished landscapes and ecosystems, catch rainwater, harness energy, build communities, work on our own "inner ecology," and much more. Permaculture design fosters a growing understanding of nature's patterns and generates models of sustainable living – always with the goal of achieving maximum productivity with minimal labor and use of outside resources.

The idea of designing our lives based on natural systems is not new. Our ancestors instinctively embodied these concepts for centuries. Indigenous cultures still do today. In the 1970s, two Australians — Bill Mollison and David Holmgren — pioneered the concept of permaculture and developed courses using the founding principles as an applied design system. There was no term to define "sustainable culture," so they coined the word "permaculture" as a metaphor for "permanent agriculture." The term evolved into the concept of "permanent culture," since culture and agriculture are intricately aligned. Permaculture emphasizes three core ethics: care of the Earth, care of people, and sharing surplus.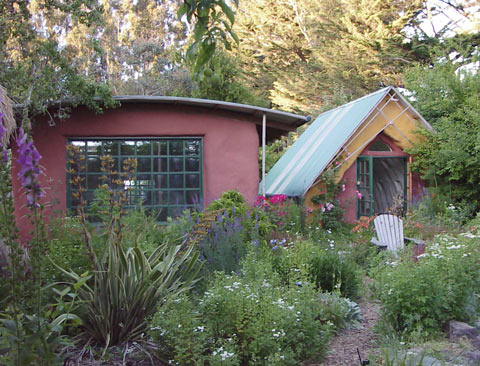 Using their home as a living classroom, Penny and James began to teach courses in permaculture, ecological design, and other sustainable earth-based practices. "We focused a lot on agriculture," Penny explained, "because that is the best vehicle for connecting with nature. We're able to go back to the earth through our food, our medicine, our building materials, our relationship with animals, our relationships with each other, and our local community. We talked about the economy, finance, and trade. How can we meet our own needs in a way that isn't going to be destructive? The good news is that practical, on-the-ground solutions are available on any scale," she said.
As demand for their classes grew, Penny and James purchased land in Trinity County where they developed the Skywater Center as a large-scale restoration project. At the site, they hosted workshops on permaculture, wilderness awareness, forest management, erosion control methods and keyline patterning, a technique for maximizing beneficial use of water resources.
Over time, Penny and James realized that they had outgrown their organizational name and identity as the Permaculture Institute of Northern California. "We were doing a lot of other things like nature awareness, tracking, mentoring, group process, leadership training, and 'inner work' for personal growth," James explained. "None of that fit within the standard permaculture curriculum that was taught worldwide by other practitioners. We decided to call our work 'regenerative design.' That way, we could retain the brilliance of permaculture, while expanding our vision in other dimensions," he said.
Penny and James created a new organization, the Regenerative Design Institute (RDI), with the broad mission of serving as a catalyst for a revolution in the way humans relate to the natural world. "We envisioned a world in which people, inspired by nature, create and maintain healthy and abundant livelihoods that enhance fertility and biodiversity on the planet," reflected Penny. "We saw humans as a positive, healing presence on Earth, creating more abundance on the planet than would be possible without them. We dreamed of a world in which all people, inspired by nature, could live in a mutually enhancing relationship with the earth."
"From a global perspective, RDI addresses several critical questions facing mankind today. How do we — as a human species — sustain ourselves and provide for our needs, and the needs of the environment, for an indefinite period of time? Is it possible to develop an intimate relationship with the natural world and, at the same time, address our ecological crisis?
"When Michael invited us to become stewards of Commonweal Garden, we were thrilled with the opportunity to transform the garden into a living permaculture classroom and demonstration center for regenerative design. But the reality of the undertaking was daunting. James was in his late fifties. It had taken us ten years to transform a three-quarter acre site and now we were thinking about taking on seventeen acres in a beautiful valley, with no habitable building to live in," she said.
As they began exploring the land, Penny and James discovered that most of the vegetation covering the site was non-native: poison hemlock, wild radish, and blackberry and thistle soaring five to eight feet high over masses of native poison oak. The landscape had already been disturbed in the past from over-grazing of cattle, so the response from the land in that situation was to come back with even faster growing, invasive exotic plants that quickly covered the soil.
The three buildings on site, plus a dilapidated old barn with no walls, were in need of serious repair before they could be used. Many animals had taken over the central compound, and there were about twenty-five wood rat nests, both in and out of the buildings. With the help of friends and interns, Penny and James worked tirelessly to get a roof over their heads before the winter rains arrived. "When we moved into our new home in early 2005, Penny reminisced, "we were still in the middle of remodeling. We had patched the roof and installed a set of composting toilets, but there were no windows — just huge gaping holes in the exterior walls. Our friends thought we'd gone mad," she said.
Despite the challenges they faced, Penny recalled their unbridled excitement and enthusiasm during those early days in the Garden. "We were continually discovering hidden treasures buried in the overgrowth. A few weeks after we moved in, we discovered a beautiful orchard with plum, pear and apple trees. Occasionally, I heard James calling out through the brush: 'Aha, found another gold mine!' The former caretaker had composted everything for over twenty years and there were huge compost piles stashed throughout the garden," she said.
Restoration work continued throughout the spring. They installed recycled windows, repaired leaky roofs, and hooked up new wood stoves. The interior walls of the main house and bunkhouse were finished with beautiful earthen plasters. They cleaned out the old artesian spring box in the main valley and installed filters for irrigation and drinking water. Most of the work was accomplished with the help of students and volunteers, but Penny and James soon realized that they needed to hire permanent staff to live on-site, tend the land, and supervise seasonal workers.
Matt and Rachel Berry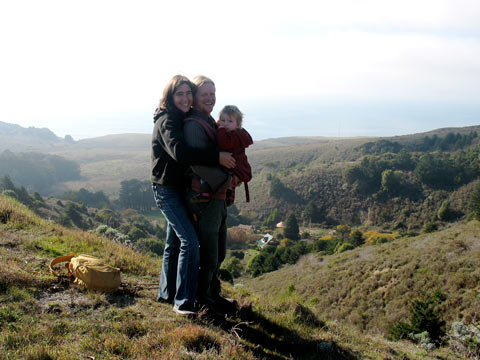 "Responding to an internet posting for two six-month work-trade positions, my husband Matt and I arrived at Commonweal Garden for an interview," Rachel recalled. "We sat down with Penny and James and told them that we had just left our home in Arizona, dissatisfied with working full-time jobs away from home and buying most of our food and other necessities from far away places. We were looking for a way to immerse ourselves in a more sustainable way of life where we could grow most of our own food and live in a closer relationship with the natural world. But we were also looking for something bigger — a model of living in community that was localized, interdependent, wise in its use of resources, and designed to support a high quality of life. We wanted to live in a way where simply doing what needed to be done would result in health and vitality for the environment and ourselves.
"In our brief interview, we realized that James and Penny could offer us a promising new world of possibilities for how we could live our lives. Penny's creative energy and wild enthusiasm for her work was contagious. James' perspectives in spiritual psychology, 'inner permaculture,' and personal healing resonated with me, with the added prospects for activism and tending the land. They were both so full of optimism and hope for what the future could be like on this planet. They seemed to carry a certainty that the lifestyle alternatives we were looking for were not only real, but also totally attainable.
"We signed up for a six-month internship, never imagining that we would stay almost four years. We chose a sheltered spot to set up our teepee on the western edge of the valley with a spectacular view of the Pacific Ocean. Matt became the garden manager and together we coordinated the ever-growing number of seasonal work-trade crews, interns, and students. The garden infrastructure continued to expand rapidly. A beautiful yurt was erected to serve as the classroom and library. Construction began on several small cottages for the seasonal farm staff, using non-toxic materials from the land, such as clay and eucalyptus. For more efficient water usage, we installed greywater systems and drip irrigation throughout the perennial gardens. Several rows of swales — garden beds designed to catch water — were dug, prepared, and planted with tiny seedlings we had grown. A wet boggy area was transformed into a lovely pond filled with water lilies. Clay from the pond was used to build a cob garden bed for lounging in the sunshine and watching scores of birds and mammals that were attracted to the new water source. Soon after the pond was installed, tree frogs were heard singing at night and brilliant orange dragonflies were spotted flitting about the garden for the first time since Penny and James moved in.
"I learned so much from Michael Presley — a charismatic garden wizard from Sonoma County who moved onto the site with Penny and James and stayed for the first year. With a sparkle in his eye and a bright smile on his face, Michael made everything come alive. It was as if he could see the entire natural world as one living, breathing, unified being that was intricately connected. I remember how he described the rolling fog in Bolinas as the inhale of a goddess, breathing cool air from over the Pacific ocean into her San Francisco Bay mouth and down into her Sacramento Valley lungs. He helped me and other students understand the plate tectonics at work in West Marin by having us dance out the geological forces that created Mt. Tamalpais. He taught me (and many star-stricken students at my side) how to prevent muscle strain with a hoe by literally dancing with it in the garden.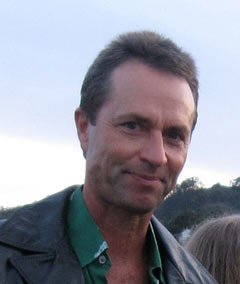 "Living at Commonweal Garden, we discovered the community and camaraderie that we had been yearning for. Communal meals, always a highlight of the day, featured delectable pizzas baked in the hand-sculpted, wood-fired oven, farm fresh vegetables, chevre and feta cheese from the goats, wild nettle pesto from Wish Creek, and sweet pears from the orchard drizzled with honey from our bee colonies. After dinner, staff and students gathered around the fire circle, with stars sparkling above and the warm glow of the flames lighting up our faces. It was always a magical moment — a timeless scene repeated through the centuries — where we felt connected to something much bigger than ourselves. We felt so blessed to be living our dream in harmony with nature," she said.
Four Seasons Permaculture Design Course
Just weeks after Penny and James moved into their new home, they welcomed students to the first on-site permaculture design course. With no habitable building to use as a classroom, they scrambled to put up a large greenhouse frame covered with tarps, shielding students and teachers from inclement winter weather. "As often happens with RDI courses," Penny recalled, "the limited infrastructure at the garden didn't seem to matter much to the students. What mattered was the content of the course. People were thirsty for solution-based conversations about the environmental crisis. Students flocked to the classes to learn about permaculture, and in turn, their labor helped us transform the wild, untamed garden into a beautiful, dynamic living classroom. Living on the land in tents, students joined the working farm community to help with pruning, planting seeds, composting, propagating plants, harvesting water, milking goats, constructing natural cob buildings, and other seasonal activities," she said.
RDI's programs wove together the principles and practices of permaculture with nature awareness classes designed to deepen students' understanding of the natural world. Other classes focused on animal tracking, bird language, mapping, mentoring, and "inner gardening" to explore personal growth. Once students understood the principles that made ecological systems self-sustaining, they learned how to apply them to energy systems, water supplies, integrated homes and gardens, and healthy communities. "Through hands-on experiences," Penny explained, "students truly grasped that humans are an integral part of the natural landscape and that we become better stewards when we strengthen our relationships with the natural world around us."
Lydia Neilsen found her way to Commonweal Garden several years after graduating from Carleton College in Minnesota with a dual-degree in biology and studio art. Interested in working with the natural world, particularly with a focus on beauty, she attended a graduate program in natural science illustration at UC Santa Cruz. Over the next few years, she followed the "workshop circuit," taking courses throughout Northern California to learn about gardening techniques, habitat restoration, biodynamics, and more.
"During that time," Lydia recalled, "I was a stay-at-home mom with a new baby. I was searching for a career path, but I hadn't found the right niche. When I met Penny at a permaculture class she was giving in Alameda in 2003, I lit up immediately. I was inspired by her vision and hope for the future."
"When we turn on the news," Penny told us, "we see all kinds of disasters, catastrophes, and a lot of suffering in the world. How are we going to move into the future? What are our great, great grandkids going to thank us for? What can we do now that future generations are going to say: Thank God those guys did what they did, when they did it. When you start to feel overwhelmed, this is a place where people learn on a practical, day-to-day level what they can do to start making the world a better place right outside their front door.
"Listening to Penny," Lydia continued, "I realized that permaculture seemed to encompass all the things that I was interested in. My partner Lochlan and I signed up for the first Four Seasons Permaculture Design Course that Penny and James were starting at Commonweal Garden. We traveled from Santa Cruz up the coast to Bolinas one weekend a month over the course of a year, bringing our young son Ailin with us. The property was so overgrown that classes were held in the library of the main Commonweal administration building for the first few months. Working from the ground up, we helped Penny and James with clearing, sheet mulching and planting. It was an exciting time to be there on the ground level as we watched the garden slowly come to life.
"Once I discovered my passion for permaculture and regenerative design, I wanted to find a way to share it with the world. Penny gave me the opportunity to move forward with my career by asking me to join the teaching team for the Four Seasons Permaculture Design Course. It was trial by fire, but I learned by doing, and eventually became the program manager. With Penny as my mentor, I watched her perseverance as a driver for change and regeneration, no matter what the obstacles. She's been an inspiration, teaching me to 'go for it' and never give up. In addition to teaching at Commonweal Garden, I started a permaculture course at a small biodynamic garden and orchard at the Santa Cruz Waldorf School. Lochlan and I run a permaculture and biodynamic consulting business called Dirt Dragon Designs.
"One of the strengths of RDI is the culture that Penny and James have built into the entire program," reflected Lydia. "We begin each day in a circle, singing together and sharing gratitude. We recognize that we have all made the choice to be on this path — working toward a new world — and that each person can make a unique contribution as part of the solution," she said.
Erin O'Reilly, former co-director of RDI, reflected: "Penny and James instill this incredible sense of hope when they talk about the fact that we have all the solutions to solve the problems we've created as human beings. James always reminds us that it's so amazing to be alive at this time in history, because we really can make a difference. They made me realize that it's all a matter of perspective. Let's not worry about how we got in this mess, let's just focus on positive solutions," she said.
Regenerative Design and Nature Awareness (RDNA)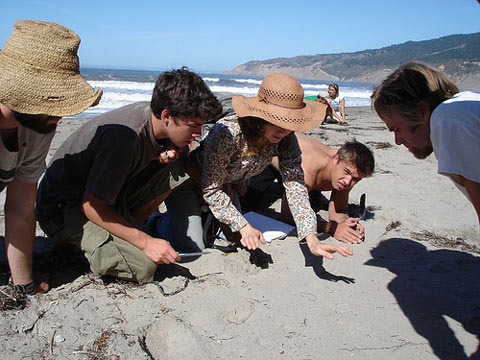 For many years, Penny had integrated tracking and bird language into her permaculture classes as another means of teaching students how to connect deeply with the natural world. Based on the work of Jon Young, these practices involve going to nearby "sit spots" on a regular basis in order to pay attention to the bird and wildlife activity in the area. The author of The Kamana Naturalist Training, Coyotes Guide to Connecting Children to Nature and What the Robin Knows, Jon had started the Institute of Nature Awareness (IONA) to provide comprehensive education in nature awareness and bird language,
Jon recalled his first visit to Commonweal Garden. "When Penny and James first took me to the Garden, I was shocked! It was a tangled mess of poison oak, blackberries and overgrown alders. I remember thinking 'Oh My God'…they are going to move in here…where? I started to feel really badly…could I let this happen? Should I stop and help these people because I think they are really going to do this! And then I watched in amazement as they transformed the place in very short order."
"This is one of the hopeful stories I share with students in my classes," continued Jon. "Most people today who are conservation minded think that humans destroy nature and decrease diversity. But I've seen the opposite at Commonweal Garden. I've seen diversity grow. What I've heard, and what I've seen with my own eyes, is that permaculture, when done well, really does increase biodiversity, as well as productivity of the landscape. It clearly benefits everybody," he said.
In the fall of 2005, Penny and James took a leap of faith that ultimately brought profound changes to RDI. "We saw tracking as a foundation for being a really good permaculturist," Penny explained. "The ability to observe natural systems was a core component of permaculture design, even though the standard permaculture curriculum did not offer the tools to develop those skills," she said.
As it became clear to Penny, James, and Jon that combining permaculture training and nature awareness would be mutually beneficial, in 2005 they merged RDI and IONA to create the Regenerative Design and Nature Awareness (RDNA) program.
Nicole Young, Jon's wife, described the collaboration between the two disciplines as a perfect match.
"By focusing on nature awareness and observation, Jon and I found that people would gain a deep understanding and connection to the natural world. But as they discovered an incredible excitement about the natural world, they also experienced a lot of grief as they witnessed its apparent destruction. We realized that we didn't have many suggestions as to how our students might pursue their newfound passion, other than a career as a botanist or biologist. There just weren't many viable job opportunities for people with the type of skills they had developed. When we met James and Penny, we realized that all the energy and knowledge our students had gained through observation of the natural world could actually be productively channeled to regenerate and heal the earth. Our mutual dream was that our merged RDNA program would foster connection to the natural world and help students develop the skills to protect and enhance it by following the principles of permaculture and regenerative design," she said.
RDNA Students
Through word of mouth, as well as synchronicity, students found their way to Commonweal Garden to attend the first RDNA courses. They came for different reasons, many not even aware that the two disciplines had merged. Some hoped that permaculture classes would give them practical tools to maintain a landscape and live more sustainably with nature. Others sought to increase their awareness of nature through tracking and bird language. But the common denominator they all shared was a passionate and altruistic quest to live more sustainably, in a deeper connection with nature. Most were concerned about the apparent fragility of the world and wanted to be part of the solution. They were searching for some kind of transformation in their own lives, relationships, and communities. Most held a vision of what they wanted the world to look like, and a dream that they might be able to make a difference.
Lauren Dalberth graduated from Pennsylvania State University with a degree in Earth Sciences and Geography, with a focus on human and nature relationships. After college, she spent several years searching for a graduate program that would encompass all her interests. "When I stumbled upon RDI and met James Stark," Lauren recalled, "he told me that they were starting a new three-year intensive program called RDNA. He told me that I needed to be there. I wasn't quite sure what I was signing on for, but RDNA sounded like the perfect blend of everything I was looking for. I knew instinctively, with every fiber of my being, that I was meant to be there.
"During the first year of the program, I learned a lot of skills that helped me tend the land in a better way, such as growing my own food, planting fruit trees, wild harvesting and managing water in the landscape in a beneficial way. The Four Seasons Permaculture Design Course had a profound impact on my life as I began to understand how natural systems were integrated in a holistic way. I felt grounded in the belief that I could actually make beneficial changes in my own life and my community.
"The tracking classes really surprised me. As I learned to put my senses out on the landscape, I developed deeper observation skills. It changed the way I saw the landscape externally, while at the same time, it changed the way that I saw myself internally and in relationship with others. I was able to track myself, just as we had learned to track animals in the wild.
"I was fascinated by the Bird Language classes taught by Jon Young. I developed deep observation skills as I began to hear and understand the cues — vocal, visual and energetic — that birds are constantly giving to each other. Is there food? Is it safe? Is there danger? For example, whenever a Cooper's Hawk — a fast-flying predator of songbirds — approached, the entire valley became silent with alarm. I could actually feel the energy field, the 'concentric rings' as Jon called them, in my chest before I could associate the sounds with the bird's approach. When the hawk left the valley, I could feel the energy change once again as the alarm lifted.
"This was a profound experience for me. Jon taught us that the awareness required to understand birds really does help us to know ourselves. When all the thoughts, anxieties and fears are stripped away...who am I? Deep bird language has taught me some of the answers to that provocative question.
"Translating those observation skills into my personal life, I began to observe my own processes and notice my own concentric rings, whether I was entering a roomful of people at a party or walking by myself in the forest. Sensing my own energy field, I learned how to show up in a way that I felt good about myself. Deep observation skills have been invaluable in my career as a permaculture designer as I learned how to read the landscape, understand ecosystems and hear what the plants were saying. I've realized that deep nature connection changes us. It rewires us and enables us to make much more of our human potential," she said.
Dave Hage also found his way to that first RDNA course in 2005. Having graduated from UCLA with a degree in Anthropology, Dave discovered permaculture and tracking as a Peace Corps volunteer in Paraguay where he taught sustainable agriculture and beekeeping to local farmers. When he returned to the United States, Dave enrolled in a three-year intensive RDNA program, hoping to expand his experience in this line of work.
"I was blown away the first time I saw Commonweal Garden," recalled Dave. "Penny and James had just begun the process of reclaiming the land and it was still raw, untamed, and overrun with thistle and wild radish. But the moment I walked through the garden gate and saw the group sitting around the fire circle, I felt at home. It was a magical experience.
"I had been feeling a little lost about the state of things in the world. But when I heard Penny talking about permaculture, I thought that I could do something right now to turn things around and make a positive difference in my footprint on the earth. As I immersed myself in permaculture and nature awareness courses, I felt as though I was actually learning for the first time in my life. Although I had been through the traditional college experience, I was able to retain information and skills as I never had before. I was learning by doing, rather than by reading and listening to lectures. I felt passionate, fully alive. I knew that I had to stay for more. I was hooked on RDNA," he said.
During his second year, Dave took Jon Young's course on Cultural Mentoring. Jon and his team had studied indigenous tribes around the world for over thirty years, and witnessed the powerful effects of "cultural elements." Whereas mentoring can be a conscious choice by an individual facilitating another's learning journey, cultural mentoring is learning as a side effect or unintended consequence of exposure to culture. The inherent, powerful effects of culture are often unnoticed, or even invisible, to most. In the RDNA curriculum, cultural mentoring is referred to as "the invisible school."
"For example," Dave explained, "Jon was intrigued when he recognized that so many cultures, from all races and all walks of life, had greeting customs. While observing ancient tracking cultures in countries as disparate as New Zealand, Hawaii, America, and others, Jon wondered whether a cultural element, such as a greeting custom, could influence learning. What elements make up healthy indigenous greeting customs? He discovered that the answer was surprisingly simple, yet profound in its impact. People feel better when they are greeted, welcomed and included in a group. They can concentrate more clearly. The morale increases both on a group and individual level, and people are much more engaged.
"The Cultural Mentoring course struck a deep chord within me," continued Dave. "We looked at some of life's most profound questions. What traditions do people follow to pass on knowledge? What causes happiness? What brings us closer together? What connects us? Cultures around the world provided consistent answers: sitting around a fire, storytelling, tracking, and greeting. So many of us grew up disconnected from our neighbors. Cultural Mentoring reminds us that we all need each other in community," he said.
Once Lauren and Dave completed the three-year intensive RDNA program, they both stayed on at Commonweal Garden to become instructors of the Four Seasons Permaculture Design Course and the RDNA Intensive. Together they founded Weaving Earth, a permaculture design firm specializing in holistic landscape design, nature awareness, and permaculture education services, and garden coaching.
"As educators and permaculture designers," Lauren reflected, "our intention is to revive and foster the vital relationship that humans play in the creation and regeneration of healthy ecosystems, both on the land and in the community. We use deep observation, nature awareness skills and the principles of permaculture to create settlements that mimic nature's beauty and resiliency and that are bountiful in food, water and energy. Our work in the world is a call to humanity to once again step into our role as caretakers of the earth and do our part to create fertile, abundant and regenerative ecosystems for future generations to enjoy," she said.
Dave and Lauren were married in 2011. They moved into the house in Point Reyes Station that Penny and James had turned into a permaculture oasis almost a decade earlier. "We see ourselves as a new hybrid generation," reflected Lauren, "carrying the pioneering work of Penny, James, Jon, and Nicole into future generations. We're blessed to be doing work we're passionate about, that feels like play and helps reconnect people with nature," she said.
Empowered by RDNA courses, students often seized the opportunity to make major life changes in their lives. They often chose careers that spoke to their personal passions and mutual desire to affect their communities in positive ways. Many graduates have become permaculture designers and educators. Others have become organic farmers or activists promoting sustainable agriculture in their own communities. Some work as mentors for disadvantaged youth. Others have started inner-city food justice programs or solar businesses. Some teach natural building, while others teach gardening to children. They have pursued careers as writers, accountants, teachers, doctors, veterinarians, social workers, and myriad other professions as broad as human interests.
"We're always amazed to see the difference in their faces and their energy levels before and after the courses," reflected Nicole Young. "There is a light that turns on…an enthusiasm…a glitter in their eyes. There is a passion in their souls that had not been ignited before. We witness a remarkable self-awakening as they recognize their own special gifts and unique purpose in life. I think the biggest thing they come away with is hope. On a very deep level, they truly understand that they are powerful individuals who can create positive change in the world and that they are no longer victims of their surroundings," she said.
Ecology of Leadership
"After years of providing educational experiences for new community leaders," James recalled, "many students in our classes suggested that it would be helpful for them to attend a program that specifically explored their 'inner garden.' They wanted to look beyond what they were doing in the world, to focus on who they were being. They were longing to find more fulfillment in their lives and have a deeper impact on the world," he said.
James teamed up with Christopher Kuntzsch to create the Ecology of Leadership (EOL) course. "We live in a time of tremendous global change," James explained. "And many of us are feeling significant shifts in our personal lives and the communities in which we live and work. As unsustainable eco-social paradigms and systems are challenged and composted, we are called to seed and cultivate new visions for our future. But how do we do that effectively? The Ecology of Leadership program creates powerful circles of change-makers who discover how community leadership — rooted in an open heart, deep nature connection, inner transformation, and ecological leadership skill development - can revolutionize one's life and service in the world.
"One of many things that happens over the course of the program, is that students begin to deepen their connection to the natural world and awaken to the fact that they are indeed an integral part of nature. When the process of awakening to that reality occurs, they begin surrender more into their fullness. And when that happens, as we observed over a period of time, the grief that people carry from their childhood begins bubbling up and initiates a deep internal cleansing process. We realized that it was part of our responsibility as teachers to assist and support people in their journey of personal healing.
"Once they have gone through and understand the territory of that healing process, then they can carry it on their own. Amazing things happen because synchronicity starts coming in when it's no longer about them. They realize that it's really about giving to community. In the past we've given people a full range of skills, but if we're preparing leaders to go out into the community, then they have to move through their own healing process," he said.
Temra Costa signed up for the five month Ecology of Leadership program, not knowing precisely what to expect. "At the time," she reminisced, "I was working with CAFF — the Community Alliance with Family Farmers. I was at a point in my career in the nonprofit world where I had leadership responsibilities, but not a lot of training in how to be an effective leader. That's when I decided to take the class. We worked on some fundamental concepts, perceptions, and fears that typically rule our lives and interactions — powerful stuff. What surprised me about EOL was that processing my childhood reactions to life and people could make a fundamental change in how I was able to lead in the world." Temra works as an author, speaker, consultant, and radio host. Her book, Farmer Jane: Women Changing the Way We Eat (Gibbs Smith, 2010), profiles more than thirty women who are reforming the food system.
Tara Smith, another Ecology of Leadership graduate, credits the program for helping to catalyze a major life change. "I enrolled in EOL with a clear vision of what I wanted: a life immersed in organic farming, education, and community. But I recognized that learning to trust myself and my vision was a major stumbling block. Believing in myself was a challenge. Trusting that I am worthy regardless of my perceived 'facts' to the contrary. I was surprised to learn how much we all listen to the voices in our heads — much to our detriment.
"A major aspect of the EOL journey is designing and taking action on a project to manifest one of your ideal visions. My project was to work out the 'how' of my organic farming dream — namely, the business plan. While I didn't finish everything, I was able to move structurally through most of it and deal with the pressure and stress much better. I learned to understand what drives me and how I can enjoy that process much more.
"I'm now the proud co-owner of Tara Firma Farms — a bustling organic farm offering CSA shares (Community Supported Agriculture), fresh produce, eggs, pasture-raised meats, farm tours, holiday events, farm-to-table dinners, and a daily 'sunset experience' by the pond. The thing I learned through EOL that has stuck with me the most is that I now live without fear. Fear I can deal with. Regret I can't. EOL helped me to move forward in my life," she said.
The Ecology of Awakening
In 2012, James and Kerry Brady created a new year-long program called the Ecology of Awakening. "For thousands of years," James reflected, "our ancestors lived wholly immersed in the wonder of a living universe, intuitively guided and held by their nature-based village cultures. Now, amidst the pressure and pace of the modern industrial agenda, we've lost contact with our instinctive knowing and deeper sense of belonging, alienated not only from the natural world but also from our own deepest nature. However, people in all walks of life are waking to the fact that we are not simply skin encapsulated egos, separate from nature, but are beings in process, evolving in tandem with the rhythms and cycles of the rest of life.
"The Ecology of Awakening is an invitation to remember our natural inheritance as an intricate part of the larger unfolding web of life," continued James. "The opportunity is to begin to shift our center of gravity: out of what is conditioned and separate into what is ever becoming and connected to all life. Through intimate and conscious encounters — with each other, our own inner impulses and with the larger earth community — we learn to listen and respond to the way life continually evokes us forward. By re-remembering our place within the unfolding fabric, we support our ability to live in a more conscious and mutually enhancing way with all life. The opportunity of this program is to support the sustained and embodied shift necessary to meet this extraordinary moment of planetary transformation."
"In many ways," James reflected, "Penny and I both feel that Commonweal Garden is still in its infancy. We awake each morning full of curiosity and excitement for creating new ways for how the garden can serve as an inspiring catalyst to set a visitor's imagination ablaze to create a healthy, resilient, beautiful planet for our grandchildren and all future generations to come."