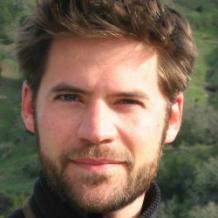 Christopher Kuntzsch
Christopher is co-founder and co-director of Ecology of Leadership programs at the Regenerative Design Institute at Commonweal Garden. The son of an opera singer and orchestra conductor, he was born and raised in Germany and moved to the United States at age 13. With early years as a sponsored table tennis player, rock musician, and adventurer-seeker, his passion for wild landscapes and their inhabitants led him to the University of California, Santa Cruz, where he delved into the world of ecology, conservation biology, natural history, and adventure education.
He spent many subsequent seasons serving as a wildlife biologist, naturalist, and course instructor for the University of California, U.S. Fish and Wildlife Service, Santa Cruz Predatory Bird Research Group, and the Pacific Crest Outward Bound School, among others. Those formative experiences led further into studies of nature awareness, spiritual practice, tracking, and permaculture and to an integration of insights from those fields into the realms of human development and leadership.
Since then, Christopher has devoted the majority of the last decade to providing guidance and leadership development pathways to individuals and organizations that wish to cultivate capacity to embody and effect the change they want to see in the world. Through personal coaching, consulting, and facilitation, he has helped hundreds of eco-social activists and entrepreneurs, sustainability professionals, non-profit leaders, managers, C-level executives, artists, and healers get in touch with their purpose, vision, and leadership potential through a synergy of generative inquiry, strategic planning, skill development, and engagement with the natural world.
His background includes 10 years of professional coaching, consulting, and facilitation; trainer certification with the Center for Leadership Studies; coaching, counseling, and facilitation training with the Coaches Training Institute and Interchange Counseling Institute; certification in Permaculture Design from RDI, as well as education at the Wilderness Awareness School and Tracker School. He holds dual bachelors degrees — in Conservation Biology and Environmental Studies — from the University of California, Santa Cruz, to which he later returned as Sustainability Coordinator to facilitate the development of the campus' first formal sustainability plan.
Christopher has been a workshop facilitator, lecturer, collaborator, and presenter at numerous local, regional, as well as national conferences and institutions — such as Bioneers, the Association for the Advancement of Sustainability in Higher Education (AASHE), the California Sustainability in Higher Education Conference, and Permaculture Convergences — on topics of sustainability, change-management, inner permaculture, and heart- and nature-inspired leadership.
Upcoming projects include collaboration with Transition US and Daily Acts to empower activists with tools for inner and outer transition.
If you'd like to find out more about Christopher's work or contact him directly, please visit his website.