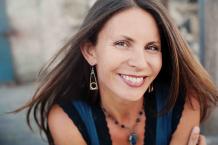 Katia Sol
Katia Sol, PhD, is passionate about helping individuals cultivate the personal shifts that in turn enable them to transform their lives, their communities, and the world. Katia is a co-director and on the core team for the Ecology of Leadership programs.
Katia has spent the last 18 years facilitating educational, international development, and leadership programs in more than 30 countries and with several First Nations around the world. Her work in this area began with her own transformative shift at the age of 17, which awakened her global consciousness and soon led her to Bolivia, South America, for a year of volunteer work in a rural Indigenous community. She returned to undertake a bachelor's degree in Latin American Studies at Stanford University, while continuing to regularly travel overseas to countries including Brazil, Nepal, Colombia, Ecuador, Venezuela, Argentina, Uruguay, South Africa, and several areas in the Caribbean and Europe, focusing on the areas of education, culture, and development. While at Stanford, Katia also began facilitating intercultural and interracial dialogue groups, the transformative impact of which became the subject of her master's degree in education.
After graduating in 2000, Katia departed for Israel to work with the International Teaching Centre, where she focused on education and training projects around the world. Katia's service path next led her to Calgary, Alberta, to work for Ghost River Rediscovery, a Canadian Aboriginal organization founded on principles of cultural rediscovery and reconnection to oneself, to the land, and to all people. As coordinator for their Youth Leadership Program, she helped grow the organization from one annual exchange project to six full-scale international education and development projects around the world. During this time she also participated in and became an alumni facilitator for Leadership Calgary.
In 2006, Katia began working on her PhD in Comparative, International and Development Education and the Dynamics of Global Change, through the Ontario Institute for Studies in Education and the Munk School of Global Affairs at the University of Toronto. For this work she was named a William E. Taylor fellow, in additional to receiving several other prestigious grants and awards. She is the author of several publications and has taught university courses in the areas of Aboriginal Studies, International Development Studies, and Comparative Education and Transformative Education. She is currently an adjunct faculty member in the International Education Management program at the Monterey Institute of International Studies at Monterey Bay.
It was Katia's search to find innovative and leading edge models of transformative education that brought her into contact with RDI and the Ecology of Leadership program (watch the story of that journey here). Katia worked closely with James Stark and Christopher Kuntzsch to document and explore the transformative elements of the program. Through participatory action research, in-depth alumni interviews, sharing circles, arts-based documentation, and surveys, Katia helped to capture and tell the story of how the Ecology of Leadership is transforming individuals' lives as well as transforming their relationships, organizations, and communities. She completed the PhD in 2013. Growing out of this collaboration, Katia's involvement evolved naturally to her current role as a co-director and member of the leadership team for the program.
Katia holds additional certifications in Cultivating Women's Leadership, Emotional Healing and Community Renewal (a year-long counselling training program), Leadership and Outdoor Education, and Awakening the Divine Feminine. Her primary areas of expertise include transformative learning, group facilitation, indigenous wisdom practices, experiential education, leadership development, and spirituality and global change. She also loves music, yoga, nature connection, building intentional communities, and spending time with her two boys, ages 6 and 9, and is dedicated to cultivating her own authentic heart-centered leadership.